For the past two years, with printing businesses struggling across the globe due to the COVID-19 pandemic, original equipment manufacturers (OEMs) have stepped up to the plate in a big way, taking support of their customers and their communities to unprecedented new levels. This is the inspirational story of one such industry leader whose products and partnerships with its customers and other OEMs have made such a huge difference.
C.P. Bourg is a 60-year-old developer and manufacturer of sheet feeding, stacking, perfect binding and booklet making equipment, with its world headquarters in Ottignies, Brussels, Belgium and American operations in New Bedford, Massachusetts. C.P. Bourg technologies enable its customers to produce personalized, variable content and customized ultra-short-run products with zero waste. C.P. Bourg also has the unique ability to directly integrate its finishers inline with production engines – such as those from Xerox, Canon, Ricoh and HP Indigo – and operate them as part of an unrivaled, ultra-efficient automated workflow.
Maximum flexibility and full automation
Their customers also benefit from the amazing flexibility to operate the same connected finishers offline, or in dual mode, finishing stacks of output from other engines. As a result of this technology's ability to integrate multiple digital printers, previously labour-intensive and time-consuming tasks of producing books or booklets has been reduced from several hours to mere minutes!
The fully-automated operation starts the minute a customer visits the web store and clicks "buy now". The selected book or booklet begins a journey through a touchless production workflow and within minutes is bound, trimmed and ready for delivery to the customer. With the integration of 'lights-out' production in either a 2-up or 4-up printing pagination process, operators become 'tenders' of the technology. They simply load paper and expect the finished product after it's bound. Every single book produced with this fully integrated and automated solution can be completely different dimensionally, including thickness and trim size.
Facilitating print on demand
The publishing industry and its business drastically changed with Print On Demand (POD). You get a book order, you print the book, and for independent publishers, the costs associated with maintaining inventory have all vanished – which makes POD and small-volume production the most affordable and efficient way to manufacture and distribute books.
Identifying the necessary investment in a current climate that remains uncertain is a legitimate question. The two most important factors to consider for book and booklet manufacturing are equipment flexibility and expandability. The C.P. Bourg BB3002 Perfect Binder evolves with the manufacturing needs and can be converted into a fully automated inline solution attached directly to either inkjet or toner marking engines.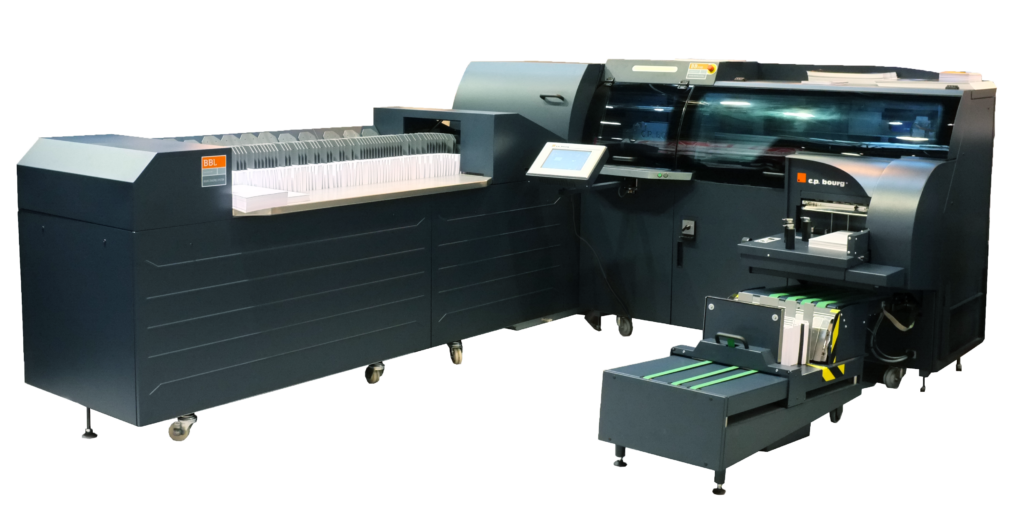 Before print on demand, titles were considered out of stock by publishers if sales did not justify a return to the printer for the minimum requirement of copies produced via offset printing. This resulted in unmet retailer and library demand. POD with digital printing technology, allows independent publishers to be off the hook when it comes to identifying how much investment is required in an initial print run. Today, automation is paramount for bindery operations to be competitive. Automated solutions allow publishers to produce more personalized, variable and ultra-short run content that are in high demand, including book-of-one. Labour-intensive tasks are eliminated, the human error factor is drastically reduced, and so is the waste.

The C.P. Bourg award-winning BM-e fifth-generation booklet-making solution can produce on-demand, individualized booklets for brochures, collaterals, financial documents, calendars, or anything, eliminating the need for inventory. Every single booklet produced can be different – different content, different size and even different thickness! The fully automated booklet-making workflow allows the production of all these products with personalization, in colour or black and white. This incredible technology is important to customers because automation coupled with advanced workflows, enable web-to-finish solutions, empowering users to do much more with much less. In other words, more production with less labour and less time. This is enabling C.P. Bourg customers to run, if they wish, 24/7 automated production with minimum operator intervention, without sacrificing flexibility.
Today, all bindery operations struggle to be competitive without automation since it is the only solution that allows producers to confidently sell more ultra-short-run, personalized, variable, versioned printing, including 'book-of-one' applications that are in high demand.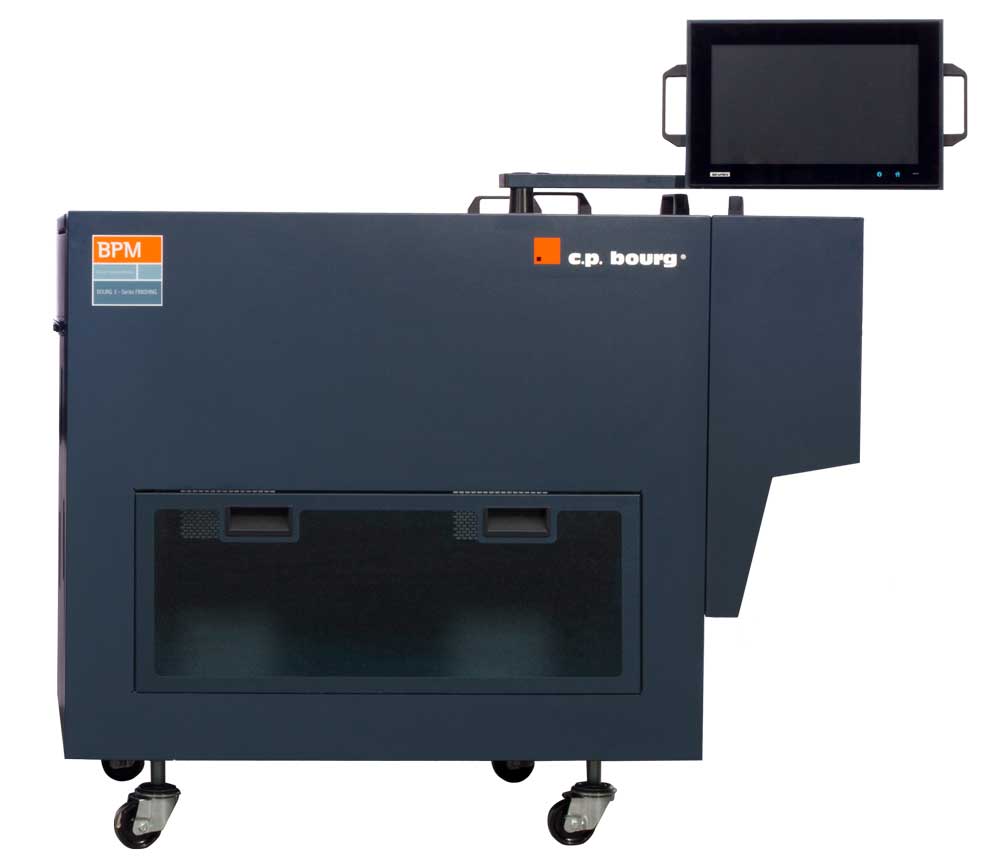 The C.P. Bourg BSF, BPM and BBL are all ideal examples illustrating the company's dedication to offering automated and expandable solutions that can be tailored to the needs of each individual customer and their specific production set-up. For example, The Bourg Preparation Module (BPM) eliminates several time-consuming processes such as preparing media in multiple sizes, manually setting up machines, and trimming finished jobs. It offers bleed/trim, crease, cut, and fold functionalities in either a 2-up or a 4-up pagination process. The BPM eliminates many costs, increases profitability, and shortens turnaround times through an innovative streamlined process that utilizes just one sheet size for all books and booklets.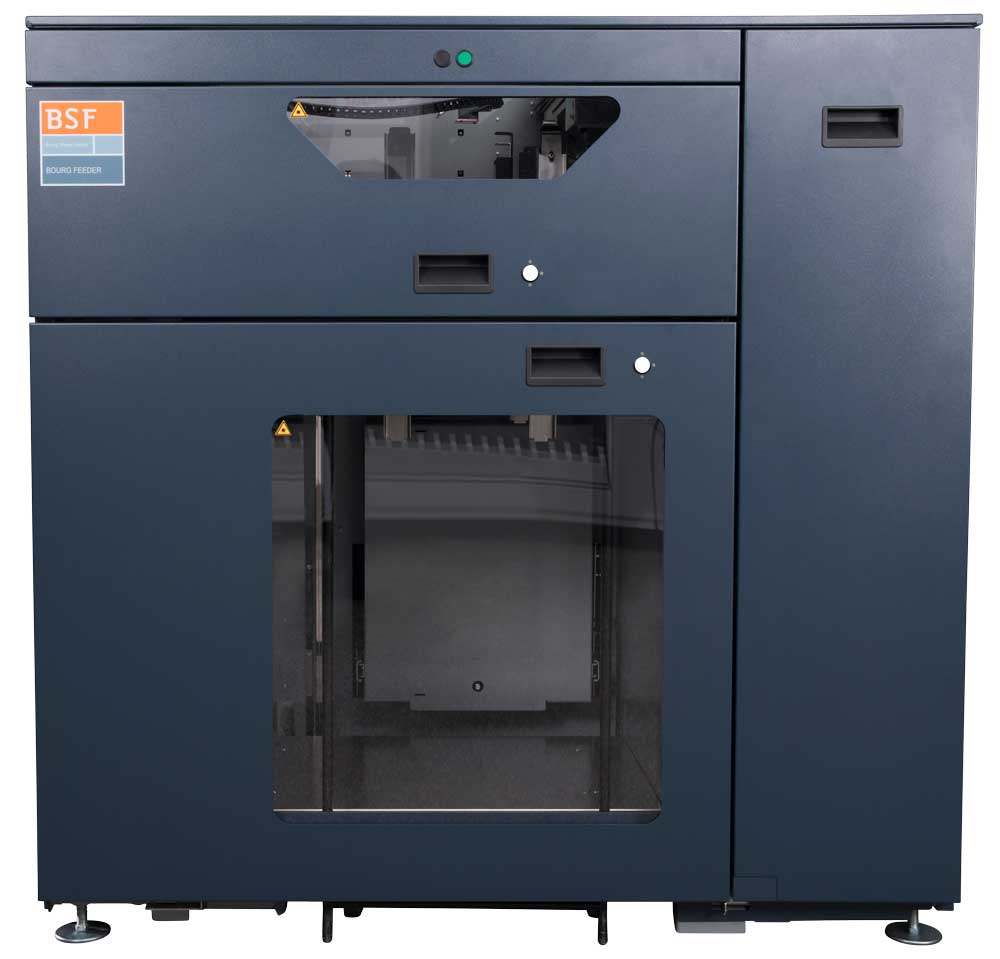 The industry-first Bourg Sheet Feeder (BSF) combines the best of offline and inline finishing with its unique Dual-Mode capacity. The BSF enables multiple printers to share the connected inline Perfect Binder for maximum finishing asset utilization.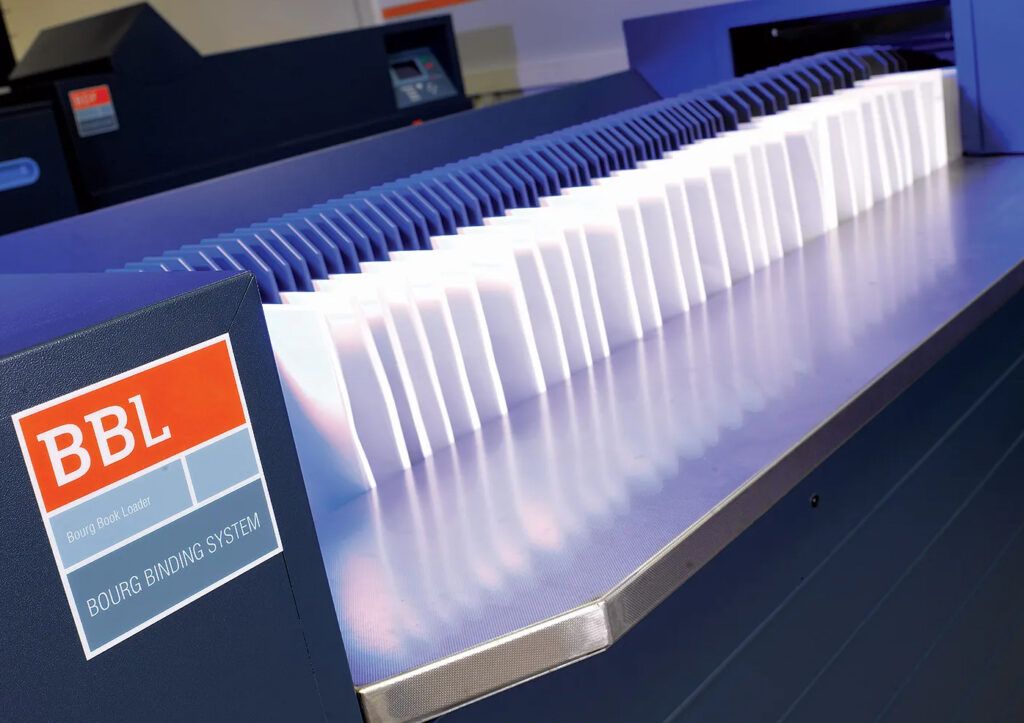 The Bourg Book Loader (BBL) is an optional upgrade for the OEM's BB3002 perfect binders. By virtually eliminating the tedious process of hand loading a perfect binder, the BBL establishes an incredibly short return on investment by boosting production, minimizing labour and establishing predictable throughput, thus maximizing output and profit.
Trusted relationships with clients across the globe
C.P. Bourg products have been designed and manufactured with a continuous commitment to quality, innovation and efficiency. As a result of their dedication to providing the most efficient automated finishing solutions on the market, they have been rewarded with privileged client relationships – including numerous partners, suppliers and successful customers worldwide.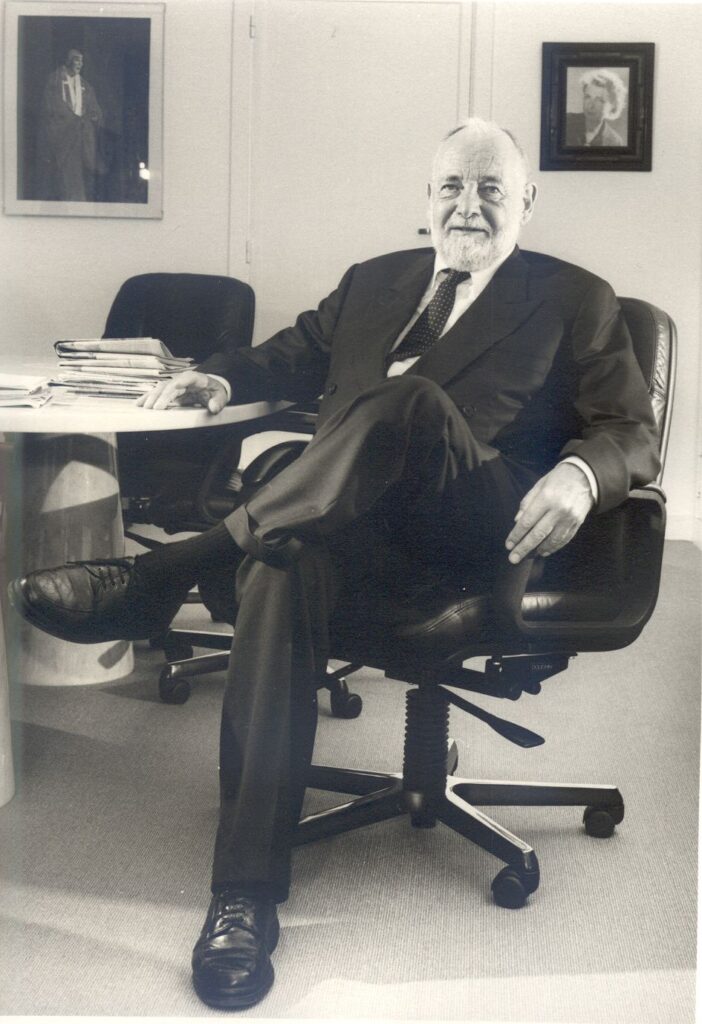 And while the company built strong trust relationships with its customers, long-term and powerful relationships with print manufacturers and other solution providers have also been established – and continued to be strong, especially during the pandemic. C.P. Bourg has designed and delivered innovative binding and finishing solutions to meet the needs of the global printing and finishing industry.
The company's reputation – as the world's leading developer and supplier of document feeding, binding and finishing equipment for the broad spectrum of traditional and digital printing environments – is built on the inspiring history of Christian Pierre Bourg's numerous achievements and continuous commitment to quality, innovation and efficiency. This commitment has led to privileged relationships with numerous digital print suppliers, and with tens of thousands of customers worldwide who rely on C.P. Bourg equipment to turn 'print on paper' into quality finished products. It's a valued relationship that has withstood the test of time, even during a worldwide pandemic.
Shaping the future of print finishing
Working hand in hand with leading companies and OEMs has allowed C.P. Bourg to create breakthrough solutions that will indeed shape the future of the industry. For example, its new fully automated book solution, inline with Xerox, enables pure book-on-demand production due to its unique-to-the-market content-driven workflow with inline automatic cover printing. And because of its pre-press preparation and JDF automation features, powered by Xerox's software, online bookshops can now produce a large quantity of 'book-of-one' without any operator intervention whatsoever. Automatic job impositions generated by Xerox's software, combined with C.P. Bourg's scanner system for job integrity, guarantees that the cover and the content are always perfectly matching. The solution combines the best of offline and inline with Xerox printers due to its Dual Mode capabilities.

Another breakthrough, Book iX, is a combination of C.P. Bourg's perfect-binding solution with Canon's varioPRINT iX3200 series of printers, empowering customers with an end-to-end, book-of-one solution. The entire solution allows dynamic impositions, while maintaining the integrity and order status communication via JDF/JMF protocol. The Book iX is a fully autonomous inline solution offering unprecedented productivity rates, is cost efficient, and allows exceptional economy of scale for short-run production.
Today's printing industry is more automated, innovative and flexible than ever, the pairing of these technologies enables print manufacturers to grow their business and produce smarter, faster and with less labour due to unrivaled levels of automation and flexibility.
Partnerships prevail
Over the years, C.P. Bourg has developed a network of distributors worldwide, and while the overall activity of the industry is picking up again during this post-pandemic period, its solutions are more prized and appreciated than ever for the robustness, quality, expandability and automation they offer. One example of this partnership during the pandemic involves a leading French printing house run by a French family. The Poisneuf printing house, a pioneer in the adoption of automated technologies for printing and finishing, is a testimony to this partnership.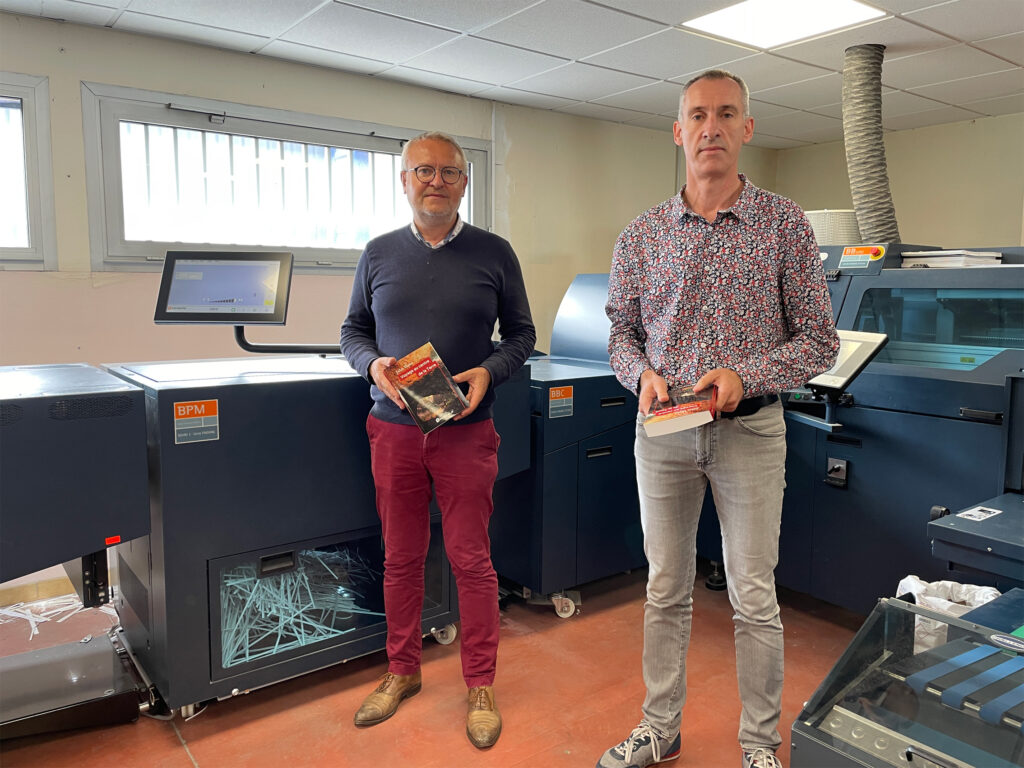 Run by two brothers who inherited the family business from their parents, this forward-thinking company quickly felt the need to switch from offset printing and turn to automated digital printing. And when you ask the Poisneuf brothers why they chose C.P. Bourg products, they answer that the company was the only one to offer such a high level of automation, making it possible to drastically reduce waste and completely eliminate human error. The printing house now offers on-demand book production, through a fully automated, 4-up C.P. Bourg perfect-binding solution, inline with the Canon varioPRINT 6330 Titan.

In Sweden, the printing companies RisbergsAdbox and Cela Gruppen announced their intention to merge into one company after several years of informal cooperation. The merger is now completed, and it was time to take the next step to secure their position in the graphics market, now and in the future. To accomplish this, they are investing in digital offset printing with HP Indigo and digital finishing from C.P. Bourg by purchasing an HP Indigo 7900 and an inline C. P. Bourg Booklet Making Solution – BSF + Double BPM + BM-e. The C.P. Bourg BM-e Booklet Maker utilizes the latest technology to produce on-demand booklets. The paper flow follows a stitch–fold–trim process with guaranteed set integrity. The solution can create over 14 types of stitch positions on booklets and up to 20 different final applications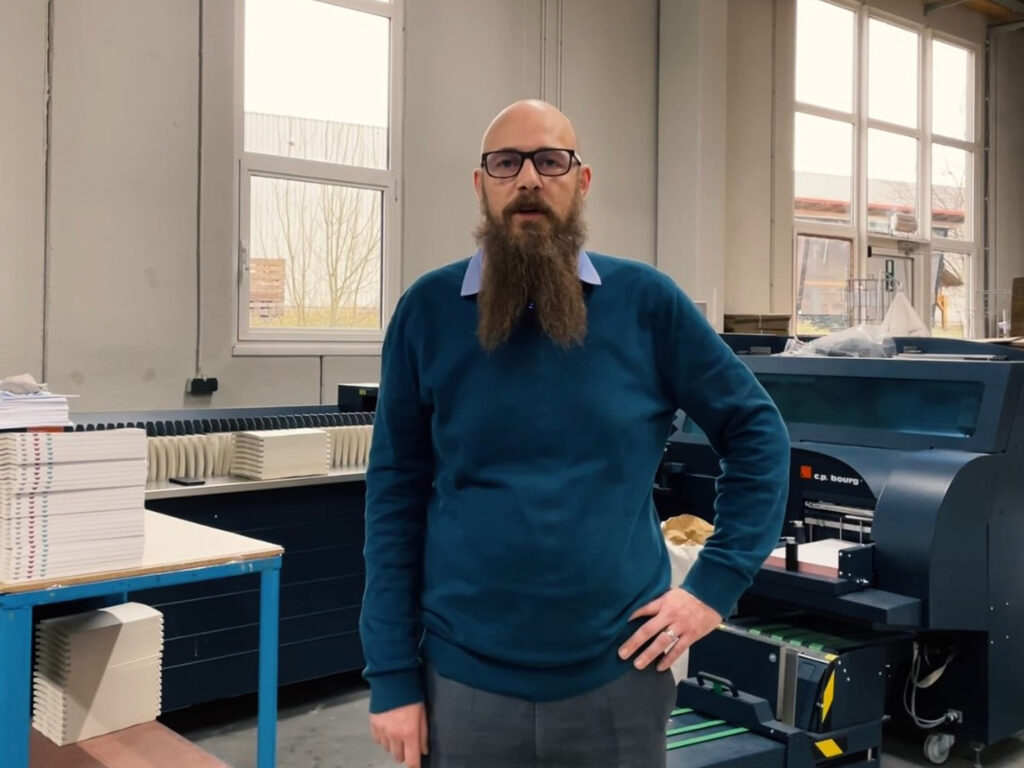 Right next to C.P. Bourg's headquarters in Belgium is the Ciaco, a Belgian cooperative company specializing in printing published books and school books for universities around Belgium. Using both C.P. Bourg's BB3102 EVA and PUR versions, the Ciaco team can count on reliable and automated solutions that allow operators to handle other tasks while the books are being produced.

In the state of Florida, USA, PRIDE helps to lower the recidivism rate and reduce criminal justice costs for the residents of the state by training inmates leading-edge job skills. Whenever they fire up their Canon varioPrint i300+ and run a piece through their C.P. Bourg booklet making line, they are changing someone's life forever. This is the excitement of working for PRIDE Enterprises, a Florida-based business that runs vocational training programs for inmates in the Florida Department of Corrections.
Inmates that complete one of PRIDE's 35 programs learn vocational skills ranging from commercial printing to furniture and metal work. Armed with these skills, along with additional support from PRIDE and its partners, participants are three times less likely to commit new offenses upon release than non-participants. The success of its printing plant in Blountstown, Florida, where its commercial graphics training is held, eventually led to an investment in a varioPrint i300+ and C.P. Bourg signature booklet-making finishing line with its award-winning BM-e.
As the global health crisis appears to be subsiding, these testimonials show that it is more evident than ever that printing is an integral part of our daily lives – and that the industry is still working hard to improve businesses, communities and most of all, the lives of people.
C.P. Bourg's mission is to help its clients achieve their goals, with the aim of working hard to improve everyone's daily life. The company's management and employees have a long-standing tradition of being the very best at what they do – and to continuously challenge themselves. C.P. Bourg continues to invest in research and development in order to roll out the most advanced technology, enabling their customers to run, if they wish, 24/7 automated production with minimum operator intervention – all without sacrificing flexibility.
C.P. Bourg's ultimate strength lies in the expertise of its teams. Passionate about printing and excited about technology, they are interested in problem solving that is driven by innovation and ingenuity. They are also proud to always offer the highest value in order to constantly improve their products.