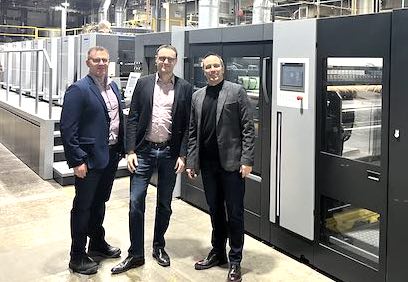 Solisco, a leading eco-friendly commercial printer with two production facilities (in St-Jules and in Scott, Quebec), recently installed a Speedmaster CX 104 6+L from Heidelberg at its Scott headquarters. Equipped with a CutStar inline sheeter and Prinect Inpress Control 3, the new offset press will provide faster speeds and quicker makereadies to accommodate the increasing demands for shorter-run books, publications, magazines, and catalogues, that Solisco specializes in.

Having invested heavily in various areas of its business over the past two years, Solisco was no longer satisfied with its lone offset press, which had been running for nearly 20 years. "We needed to run faster," said Alex Jacques, Manufacturing Director. "We also felt our technology was not up to par to where we wanted it to be." Installed in late 2022, the Speedmaster CX 104, which runs at 16,500 sheets per hour, is a significant upgrade in both speed and technology for the 30-year-old business. Solisco believes the new press will increase its overall capacity and throughput while producing higher quality products for its customers – giving the company the opportunity to diversify into different markets as well as more flexibility for the future.

Solisco's new press is fully equipped with Heidelberg's latest technology, which includes autonomous Push-to-Stop, AutoPlate Pro, and a completely new operating philosophy – the Heidelberg User Experience (UX). Coupled with patented Intellistart 3 and other assistance systems, Heidelberg UX ensures short makeready times and the best possible support for press operators throughout the press run. "I think we've always been able to adapt to different changes in the market," said Jacques, "and we're starting to get increasing requests for shorter runs and more versions."
With multiple web-fed presses installed across its various locations, Solisco has historically printed long-run magazines, comic books, four-colour books, catalogues, and flyers. Now, needing to change the press over multiple times a day, the company anticipates that some of the jobs that used to be printed on its web presses will now be printed via offset thanks to the flexibility and efficiency of the CX 104.

To further boost its quality and efficiency, Solisco chose to purchase the CX 104 with Prinect Inpress Control 3 and CutStar inline sheeter. Prinect Inpress Control 3 is an inline spectrophotometre that measures and controls colour and registers on the fly at any speed, delivering the first measurable result in less than 60 sheets. "We're really amazed at the results we're seeing with Inpress Control so far," said Jacques. By automating the color control process, sheets get up to colour faster at the beginning of each job compared to Solisco's previous press – saving both time and waste sheets. Solisco will see additional efficiencies with CutStar, which allows users to print directly from a roll and cut sheets to custom sizes before entering the feeder. "As a web printer, we're used to this type of printing, and we think it's going to bring us a lot of versatility compared to other sheetfed printers who don't use this technology," Jacques added.