In a special report, global market research leader Smithers (Surrey, UK and Akron, Ohio) revealed that innovation will be essential to the ongoing evolution of the print segment – driving R&D that can meet the pressing demand for greater digitization, sustainability, productivity and automation. "For a global market worth $760.6 billion, this demand is especially pressing. Much of the print landscape has been fundamentally reshaped by Covid-19 with the emergence of new business and buying models, coupled with a decline in many traditional media segments."
In its latest in-depth technical investigation – Ten-Year Forecast of Disruptive Technologies in Print – Smithers assesses the market potential for 23 such innovations in the print industry through to 2031. This ranges from direct innovation fitted to print equipment, through to the integration of broader technology and Industry 4.0 concepts over the next decade. Smithers' expert analysis examines each of these, including their individual disruptive potential, cost of implementation, outstanding market and technical barriers, and leading contemporary technology suppliers. The trends identified are sub-divided into 9 broad topics (in bold):
Print process innovation will include the deployment of new high-viscosity inkjet systems, allowing new substrates to be printed. There's also potential for offset inkjet printing, with graphics jetted to an intermediate surface, and dried before application to the final substrate. Higher speed electrophotography (toner) print will be enabled by the commercialization of HP's LEPx technology. While in analogue, greater automation will bring new efficiencies to flexo presses.
In market applications, the main drive will be to develop digital systems to print on packaging substrates – corrugated board, folding cartons, and flexible plastics – as well as integrated digital finishing. Other opportunities in packaging and beyond will come from the wider use of inkjet in direct-to-pack and direct-to-object applications.
From a materials and chemistry perspective, presses will need to handle and print at high quality on a new generation of flexible paper, biopolymer, and monomaterial plastic stocks. For consumables, ink makers are changing formulations to develop inks sets that incorporate more natural, sustainable ingredients.
In terms of workflow innovation, the main opportunities will come from wider automation and digitization of commercial and packaging print workflows. This will leverage innovations in robotic handling and the installation of the first generation of cooperative worker-robotic systems, or 'cobots'.
A parallel development will see print-specific Artificial Intelligence (AI) software deployed in press design, pre-press and finishing.
The increased digitization of print will be enhanced at the same time by the wider roll-out of 5G connectivity, and by the end of the decade 6G telephony networks. Other advances that could be leveraged include commercial accessibility to quantum computing power via the Cloud.
Augmented Reality (AR) platforms will also be harnessed, for both B2B and B2C interactions. This includes better, more sensitive technical and service support from OEMs, and new value-adding print options for consumers in education and advertising.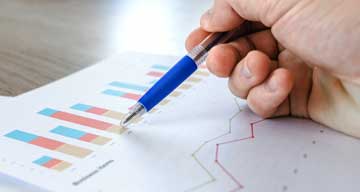 In the new report, Smithers critically assesses the route to market for these technologies across the next decade and examines how they will disrupt conventional print-business models – while creating new sales opportunities for OEMs, print service providers and their customers. All these innovations are investigated in depth in the new Smithers expert report – Ten-Year Forecast of Disruptive Technologies in Print. This comprehensive strategic forecasting tool combines Smithers' expert market knowledge of the evolving post-Covid marketplace, with exclusive research from the leading edge of innovation in the print industry.