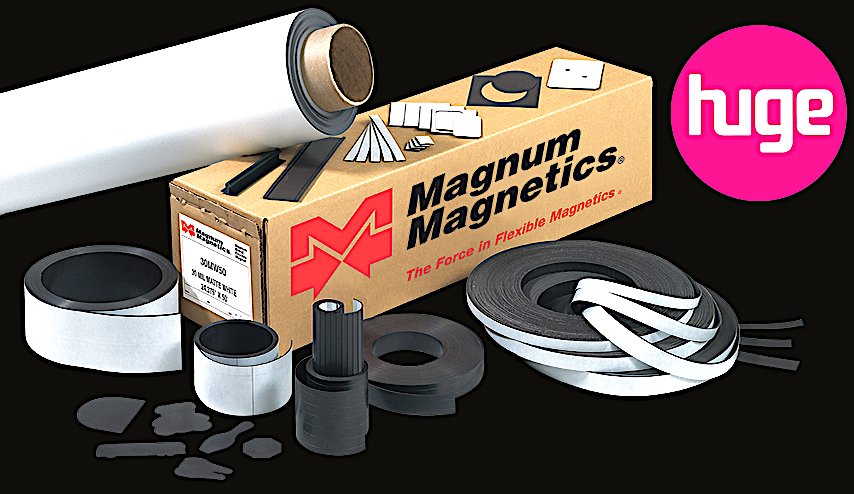 Huge Paper (Toronto), a Canadian digital substrate specialist and a leader in providing digital papers, synthetic media, and printable flexible magnetics to the printing industry, has completed an agreement with Magnum Magnetics – the largest manufacturer of magnetics in the U.S. – to become a distributor of its industry-leading magnetic media products to commercial printers across Canada. The news comes just a couple of months after Huge Paper announced its exclusive release of high-performance Poly G polyester papers to the Canadian market.

"According to market research firm Keypoint Intelligence, the wide-format market continues to grow. We believe that printable magnetics will be a huge part of that growth – and a real opportunity for printers to add new revenue streams," said Jeff Tapping, President of Huge Paper. "I recently visited Magnum Magnetics' production facility in Marietta, Ohio and was blown away by the quality and unmatched range of their products. Printable, flexible magnetics is experiencing rapid growth, especially in signage, and we'll continue to partner with our clients to bring them all the benefits of these profit-building products."
Compared to its competitors, Magnum Magnetics' products are non-toxic, have a stronger magnetic pull, are more durable, and are quickly accessible because they're made in the U.S., not overseas. Products include flexible magnetics (aka rubber magnets), printable magnetic sheeting and magnetic rolls, magnetic strips and tapes, extruded magnets, and many more. Common applications include commercial print, wide format/decorative signage, POP/retail displays, menu boards/take-out menus, calendars, sports schedules, vehicle signage, outdoor banners, building wraps, and more.
"We've made it a point to stock the most extensive inventory of Magnum Magnetics' products in Canada," Tapping added. "No matter what type of equipment printers use – digital, litho or wide format – we have the printable magnetic sheets, rolls and label rolls they need. We also stock a full line of magnetic tapes for easy mounting of printed graphics."