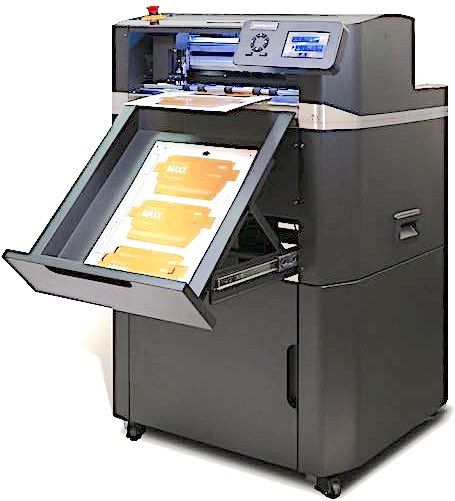 Morgana Systems' and Intec Printing Solutions' new SC6000 is a larger format version of their popular digital die-cutting system, but with an expanded size capability of 340 mm x 710 mm that allows it to handle significantly longer printed substrates. The ColorCut SC6000 is an 'on-demand' digital sheet cutter with no physical cutting dies or time-consuming set-up costs. The unit is ideal for busy print businesses seeking an affordable, high-capacity device capable of completely unattended cutting production. The compact, free-standing unit is mobile and can fit easily into most print shops. It's "a revolutionary type of automated cutter, blending flatbed and sheetfed technologies," that combines reliable feeding with an instant job-retrieval system and accurate high-speed cutting and creasing. The new model is the "bigger brother" of the highly successful Intec ColorCut SC5000.
The SC6000 will cut and crease virtually any shape up to 350-micron media and can also produce kiss-cut sheet labels. A QR code/job library retrieves the associated cut files, even for mixed job runs. The ColorCut SC6000 is ideal for digitally die-cutting packaging, point-of-sale items and lightweight card projects and labels. Its expanded size will appeal to those printers producing large-format work, such as display signage. The system utilizes an 8th-generation Vision3 CCD camera to read and instantly retrieve cut files for every sheet, on the fly.
The SC6000 can accept a mixed stack of jobs, cutting one after the other in a seamless and uninterrupted flow. Its dual Grip and Drive feed system holds media stable during cutting from both sides of the cutting head, enabling it to cut closer to the media's edges. The stacker can hold up to 900 sheets, which means that the system can be left unattended while producing medium-run to long-run jobs. A "revolutionary" cutting strip, based on the superior cutting mats used in Intec flatbeds, provides an optimal surface for both cut-through, creasing, and kiss-cutting. SmartTags are left in the cut lines to retain the job information on the sheet, leaving a tidy and manageable stack of finished sheets in the catch tray. The high-capacity auto-feeder works in conjunction with the air blade for a separation and automated jog function that "presents every sheet perfectly for the cutter, every time," the companies added.