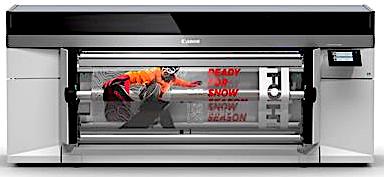 Canon's new Colorado M-Series 64-inch roll-to-roll printer – featuring two speed configurations and optional UVgel white ink capabilities – is now available "to produce high-quality applications and meet demanding productivity and turnaround standards," said the OEM. The new printer is based on a single platform that can be configured to help meet customer needs. The scalable series features two speed configurations, optional UVgel white ink capabilities and a host of additional modular options to enable end-users to customize their device according to their business needs and to upgrade the printer as their business grows. The M3 Base configuration can be expanded over time up to the M5W PRO configuration, which includes increased functionality such as speed enhancements, double-sided printing, dual-roll, white-ink capabilities and FLXfinish+.
M-Series devices can be easily upgraded to 'W' versions for white ink so users can purchase the white-ink option after their initial printer purchase. M-Series also devices incorporate the latest printhead technology found in Colorado 1630 devices – which relative to the Colorado 1650 devices have double the nozzles, a higher firing frequency, increased durability and a reduction in the number of printheads from eight to four.
The introduction of a white UVgel ink maximizes the scope for customers to benefit from UVgel's performance advantages for a full spectrum of premium graphics and décor applications such as window graphics, labels and wallpaper. With new media-detection sensor technology for easy media handling for even non-white applications, Colorado M-Series users can expand product offerings using heavy structured, transparent, coloured, metallic and magnetic materials.
The M-series outperforms its competition in terms of white printing speed, with 2-3 times faster output, while using 50-70% less ink, said Canon. "Together, the revolutionary non-evaporative UVgel inks, whose gel-like consistency helps keep the white pigments suspended, and the printer's automated maintenance features, ensure that the ink and nozzles are ready to print when you are. This eliminates the need to remove and store heads or shake ink bags before printing. The unique gel formulation of Canon UVgel ink translates to fast build-up of dense and opaque white images with up to five layers in fewer passes than with conventional printing technologies, and printed output maintains its original whiteness over time."
Users can also choose the FLXfinish+ option to add matte, gloss or mixed matte and gloss on the same print, without additional varnish. High-volume customers can automate the print-to-finish process with a UVgel Print Factory or UVgel Wallpaper Factory configuration, which seamlessly integrates the Colorado M-Series printer with cutting, rewinding, taping or sheet stacking to manage volumes of at least 500,000 feet per year with minimal operator time, said Canon. Compared to other ink technologies such as latex or eco-solvent inks, UVgel technology consumes up to 40% less CMYK ink to build up the same image quality and colour intensity. The low-heat, energy-efficient LED curing system and 'instant-on' operation results in reduced energy use compared to other technologies. With UVgel technology, customers can also print on environmentally-responsible materials such as PVC-free and paper-based media.