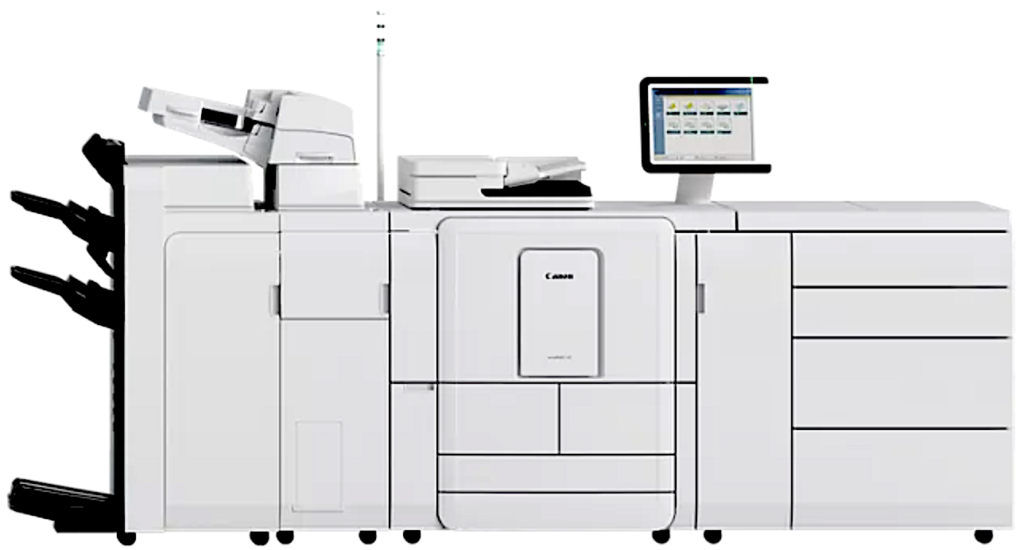 To help provide reliable monochrome performance in light-to-mid-volume production printing environments, Canon has rolled out its varioPRINT 140 series of Quartz Production Printers. "The latest edition of the varioPRINT 140 series combines flexibility for business and workflow, engineered to provide years of reliable monochrome print performance while delivering consistent productivity and quality applications," said Canon U.S.A. The OEM added that black-and-white print remains a key portion of business communications, "with more than 200 billion digital black and white impressions printed in the United States alone last year."
Handling an average of up to 800,000 letter-size impressions per month – and a peak of up to 2.3 million letter-sized impressions per month – the varioPRINT 140 series of Quartz printers can contribute to meeting tight deadlines and quick turnarounds between jobs by working to reduce unexpected interruptions with early warnings and maintenance planning. Available in three speed versions (varioPRINT 115/130/140) tey offer speeds of up to 115, 130, and 140 letter-sized images per minute.

The series joins the varioPRINT 6000 series of Titan digital production presses in offering flexible speed licensing with the optional Speed Pass Program, which gives users the power to upgrade system speed to assist in handling peak workloads without a significant, long-term investment in new equipment (helping to reduce paying for overtime or outsourcing). These upgrades are available on a temporary (30-day) or permanent basis, allowing printers to "right-size their fleet" to meet current and future business needs.
Supporting an array of Canon and third-party inline finishers, the 140 Series can produce a wide variety of applications finished inline – including folded sheets, punched sheets, stapled sets, and saddle stitched, square-spine, or wire bound booklets. The latest version of the optional Multi-Function Professional Puncher-C1 adds support for saddle-punch and perforation. Its engine can also support copy, scan, and edit functions. An input capacity of up to 4,000 letter-sized sheets for standard paper can be extended to up to 12,000 sheets with the addition of optional external paper input modules with duo paper-tray options. Colour covers and inserts can also be added with the optional document insertion unit.